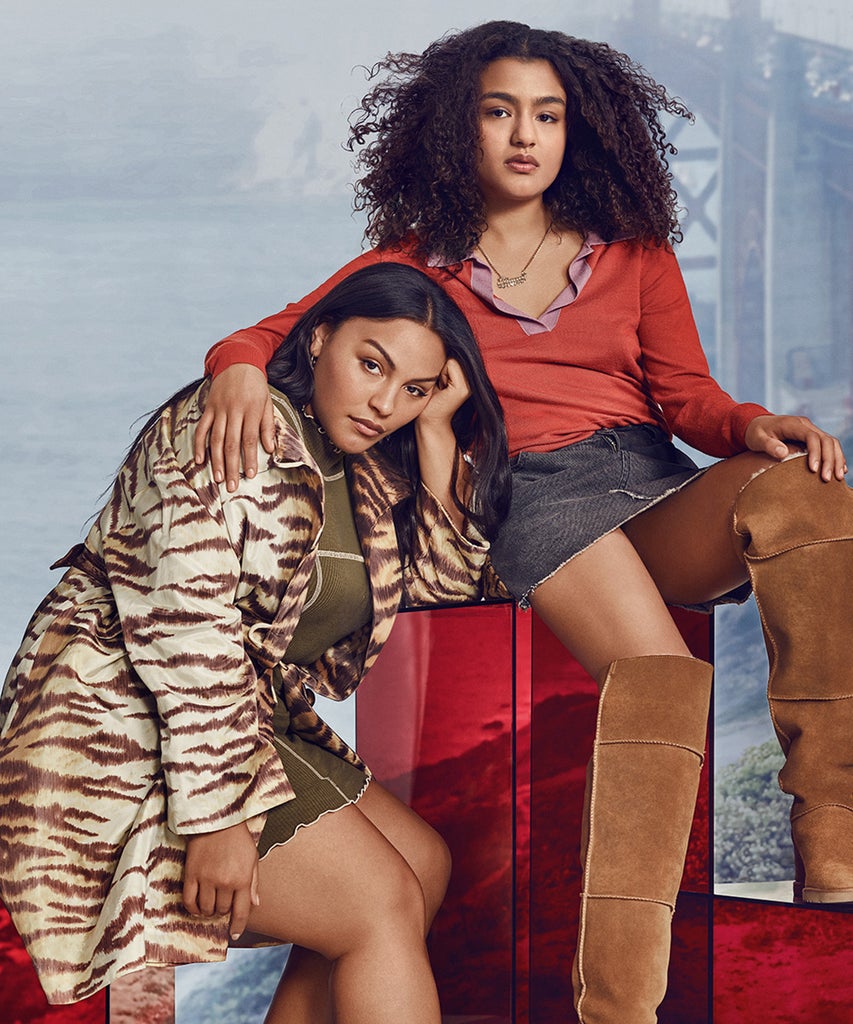 As model Paloma Elsesser continues to champion inclusivity and body diversity in the fashion world, she often makes it a point to highlight others fighting for change as well. This month, that happens to be her younger sister Ama Elsesser. The 20-year-old got her big break when she appeared as one of the cool LA skate girls in Jonah Hill's directorial debut "Mid-90s" in 2017. Now, she's starring in a major UGG campaign alongside her older sibling, following in Paloma's footsteps in more ways than one. 
"Advocacy is part of our DNA, and so we bring it into all of our work," Paloma tells Refinery29 at the launch party in Los Angeles hosted by Slick Woods. Ama nods along as she listens to her sister explain that standing up for what you believe in was an integral part of how they were raised. "I feel really passionately about the LGBTQ community because I'm a part of it, and [my family] supports me in that," Ama adds. "In the same way that we support Paloma as a body positivity activist." 
Their #UGGLife campaign features a host of other family duos including Slick Woods and her son Saphir, Kim Gordon and her daughter Coco Moore, and Luka Sabbat and his father Clark. It's a heartwarming campaign that feels equal parts fashion and familial comfort. In one of the Elsesser's images, Ama holds onto her sister's waist in a bear hug as they both stare into the camera. "I think having my sister on set with me made it more effortless," Paloma explained. "I could like, kick her and push her into place if I needed to. And even in a moment when I got emotional, she just knew what was going on." Ama nods her head in agreement. "She would just give me a look and I knew what was happening. That's one of those things that just no one else would get." 
View this post on Instagram

TRIBE .
Though they are several years apart in age, the pair seems on the same page about most things, including the way they represent themselves and their communities as they grow in recognition. As much as they want their family name to be associated with their work, they want to also use their platforms to bring more visibility to underrepresented communities in fashion.  "I think where we're at an incredibly powerful nexus of change and demand," Paloma says. "For me personally I think it's also about what my purpose in the industry is. I could speak from my experience as a multiracial woman of color and as a plus-size woman of color in an industry that inherently did not include me or see me."
She goes on to add her two cents about tokenism in the industry. "The performative elements of companies can sometimes feel co-opted and almost a derogatory because they don't cater to the nuances. It's just blanketed speak," she says. "It can't just stop at casting, it's about how you're bringing in black or brown or queer or disabled or creatives into this space that is there to hold people accountable, similar to what we're doing tonight."
Like what you see? How about some more R29 goodness, right here?