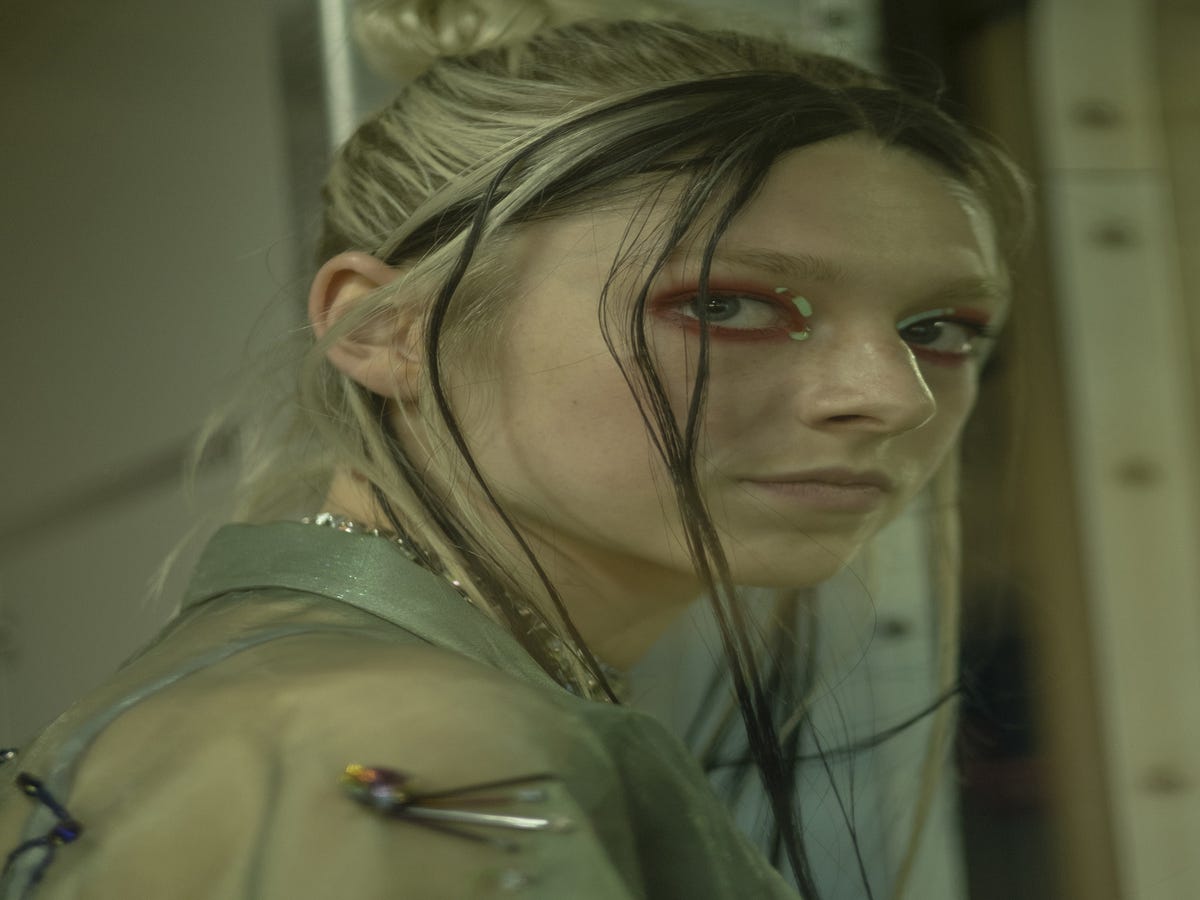 A lot went down on last night's finale episode of Euphoria. Spoiler Alert: Fez's fate is up in the air, Maddie saw the tape, Nate had a meltdown, and Rue relapsed — among about a dozen other mind-blowing twists. But at the forefront of it all, Jules did exactly what Nate predicted: she left Rue behind. Before that fateful scene on the train platform, though, Rue and Jules, our favorite Euphoria 'ship (followed closely by Kat and Ethan), shared a handful of moments that reminded us of why we stanned for them so hard in the first place. Unfortunately, we were a bit too preoccupied trying to decode Jules' winter formal look to give the duo the attention they really deserved.
Anyone who watches the Gen Z-focused HBO hit knows by now that Jules, played by trans model and actress, Hunter Schafer, has style second to none. From her angel Halloween costume to her many plaid mini skirts, you'll be hard-pressed to find a single Jules look that doesn't impress. But after watching last night's finale, we can say with good reason that "And Salt The Earth Behind You" gave us her best, most meaningful outfit to date.
jules is wearing a jacket with the trans symbol on the back I'm crying pic.twitter.com/jrnxY75LJQ

— ares (@gobeheroes) August 4, 2019
After pause-stopping our way through Rue and Jules' last exhilarating bike ride of the season, we deciphered that she wore a sheer trench coat detailed with the transgender symbol across the back. The symbol is a combination of the icons for the female (♀), male (♂) and genderqueer (⚨) communities.
As one of the few queer transgender characters on television, Jules has quickly become a role model of sorts for young members of the LGBTQ+ community. One 17-year-old viewer told Teen Vogue " it feels good to know I'm not alone and to see a representation of young trans women on TV." And according to Twitter, the public agrees. Below, check out how fans are reacting to Jules' powerful look on last night's Euphoria finale.
Are you fucking telling me that the back of jules dress is the trans symbol?

I'M NOT CRYING YOU ARE. #euphoria pic.twitter.com/AmKn9Oz1RU

— Spellman del 5ºB (@mudbloodsgirl) August 4, 2019
the #EuphoriaFinale was a lot, but can we at least appreciate this jacket Jules had? pic.twitter.com/fgVrNPY12R

— cleev (@clivethechive) August 5, 2019
The trans symbol on Jules jacket, Im living. #EuphoriaFinale #hunterschafer

— Sarah Rose Jamieson (@SagaOfSarahRose) August 5, 2019
Like what you see? How about some more R29 goodness, right here?
Float Into Fall With A Dress From Reformation's Summer Sale
Reformation's Annual Summer Sale Is Here — & These Are The 20 Items You Need To Shop
The Model Alliance Is Finally Calling Out Victoria's Secret